Do you find that . . .
Do you want to have access to ALL of these Biographies & Additional Resources for your elementary classroom and students?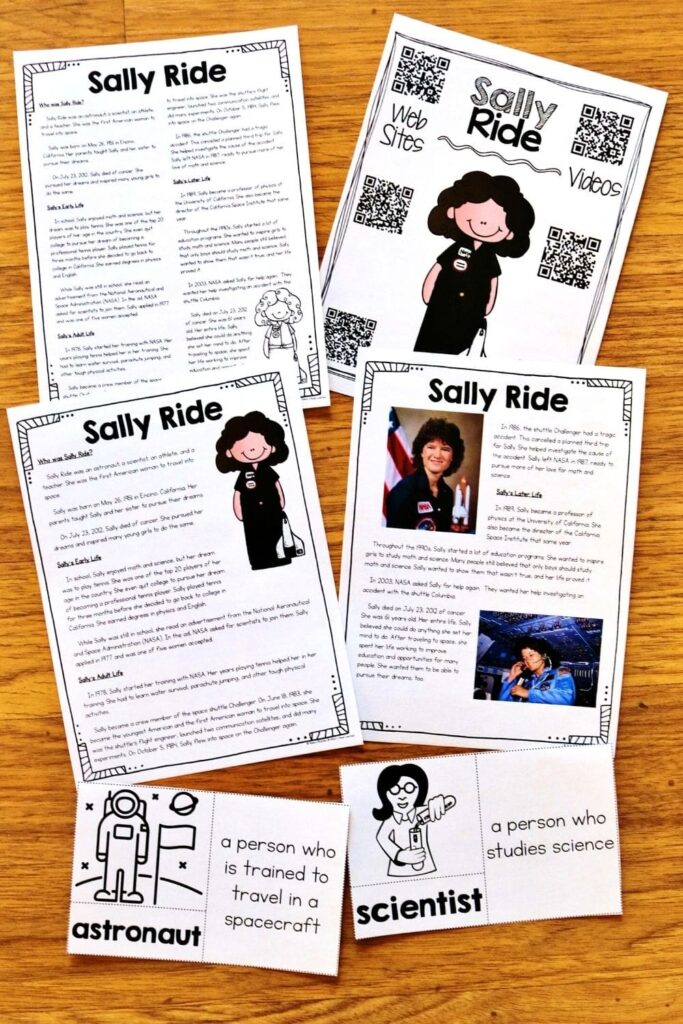 Get the Biography Collection
$57
$57 for lifetime access to all of of these resources & all future updates
47 Biographies
Digital Biographies
Biography Report
Biography Sort
4 Weeks of Lesson Plans
& More
What is Included in the Collection?
Each Biography includes:
Vocabulary Cards with key terms from the reading passage
Vocabulary Activities that include matching and Fryer model
Biography Poster that summarizes why we remember the person
Informational Article in two formats (with and without photos)
Websites for additional research: Links & QR Codes
Graphic Organizers for note-taking
Comprehension Activities such as short answer and cloze reading
Fact Sort for students to organize the facts
Summary Page
Writing Pages for a mini-report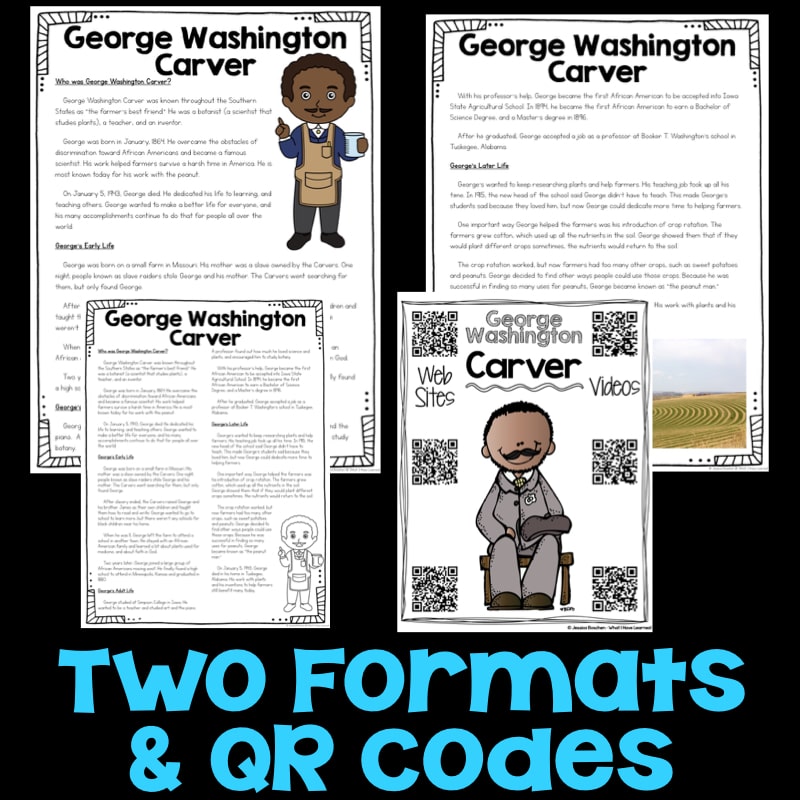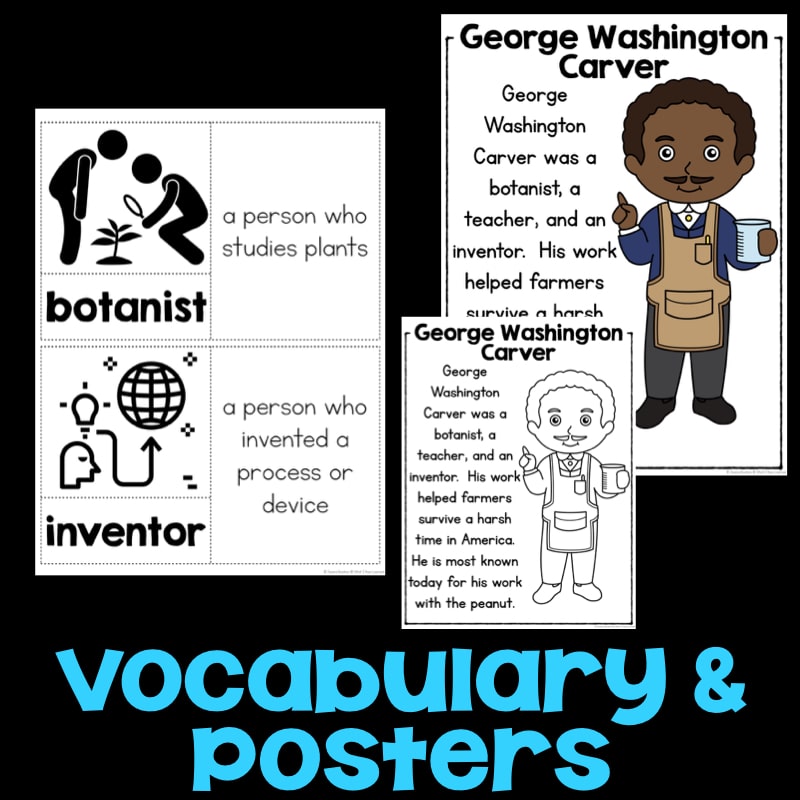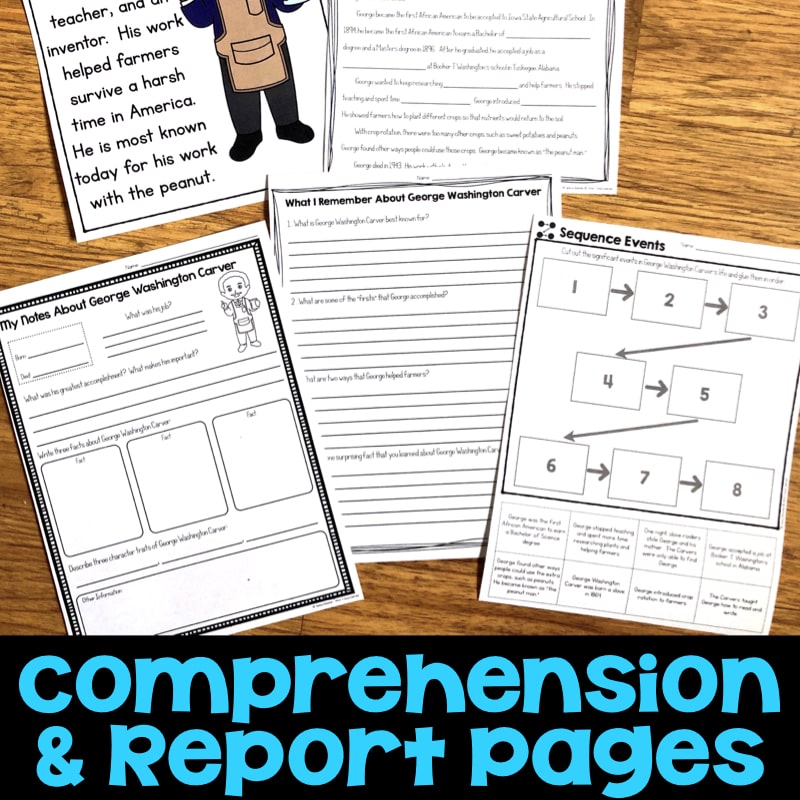 47 Biographies
Comprehension, Vocabulary Activities & More!

Althea Gibson
Jackie Robinson
Jesse Owens

Annie Oakley
Bessie Coleman
Louis Armstrong
Walt Disney

Booker T. Washington
César Chávez
Dolores Huerta
Dr. Martin Luther King Jr.
Frederick Douglass
Harriet Tubman
Malala Yousafzai
Rosa Parks
Ruby Bridges
Sojourner Truth
Susan B. Anthony

Albert Einstein
Alexander Graham Bell
Benjamin Franklin
Garrett Morgan
George Washington Carver
Jane Goodall
Mae Carol Jemison
Marie Curie
Nikola Tesla
Sally Ride
Sarah E. Goode
The Wright Brothers
Thomas Edison

Abraham Lincoln
Barack Obama
Eleanor Roosevelt
George Washington
Margaret Thatcher
Ruth Bader Ginsburg
Thomas Jefferson

Amelia Earhart
Anne Frank
Betsy Ross
Clara Barton
Helen Keller
Juliette Gordon Low
Maya Angelou
Mother Teresa
How can you use these biographies?
There are SO many ways to use the articles and the resources in the collection.
Here are a few ideas!
Use for your informational reading standards
Integrate them into your social studies, reading, and writing blocks
Compare and contrast two people from the same or different time periods
Create a timeline
Study a variety of people during Black History or Hispanic Heritage months
Do an in-depth study of a specific time period
Categorize facts from several people to see similarities between them
Use them for early finishers
Use them in whole group or small group settings
And MORE!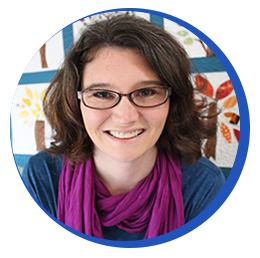 Meet Jessica
Hi there! My name is Jessica Boschen and I am the author and curriculum developer at What I Have Learned.
I've been an elementary teacher for 19 years and a curriculum developer for the past 10 years.
Today, we homeschool our two elementary-age boys and I create resources to use at home with them and for teachers to use in their classrooms. I love it!
I love creating just what you need to enhance your classroom instruction.
Now, I'm diving back into teacher professional development tying together my love of curriculum with my love of learning and teaching.
What Teachers are Saying About Using
the Biographies with their Students
We do a wax museum every year and this resource was a great addition to help my students research. There is so much out on the internet that it is sometimes overwhelming to them- this helps to narrow down the important websites they can use.

Mary S.
Teacher
My students loved this resource. It was perfect for the wide range of ages my kids are at home. The notes helped to scaffold their note taking and it let them be VERY independent in creating. They also loved all of the options available. We will use this more than once and research several people! It is also great how it incorporated reading and writing skills (i.e. reflections, character traits, etc.). This was AWESOME and exactly what I needed, well worth it!

Brittnee K.
Teacher
My 5th graders had to do research on a president and a famous African American. They loved using the templates to guide their research. They were especially helpful for my students that need additional support. Thank you.

Erica D.
Teacher
Biographies has been our reading standard for the last few weeks. I found this research project for my students to work on people they do not know about. The students LOVE the QR codes and how easy it makes researching about their person. The templates to writing notes and creating their brochure has been painless! Thank you for this resource!

Amanda C.
Teacher
My students loved using this resource to review sequencing historical events. The students enjoyed learning about Mae Carol Jemison. I also bought the Sally Ride Biography and had students compare and contrast the two. Great Resource.

Shannon F.
Teacher
BONUS!
In addition to the 47 Biographies, these resources are also included in the collection: a Biography Report that can be used for ANY person, a Biographical Person Sort and 4-weeks of Lesson Plans where you teach students How to Write a Biography Report.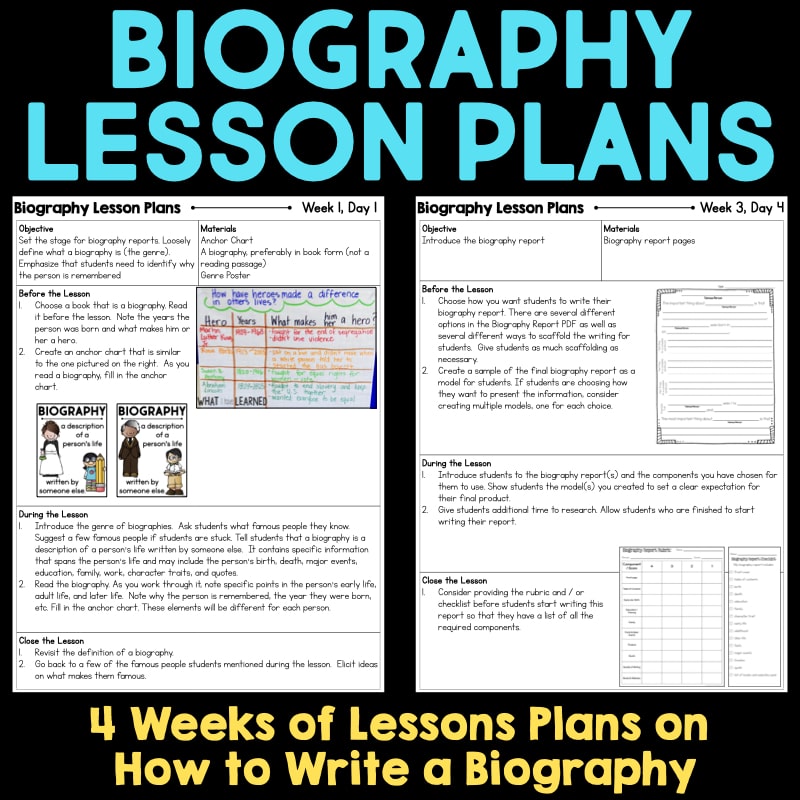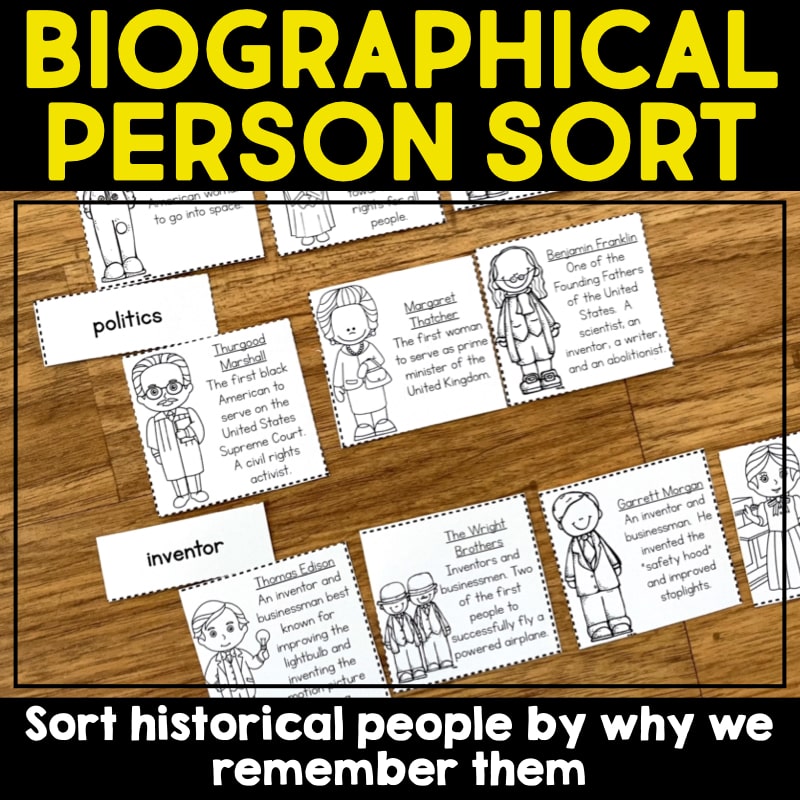 Also included are more graphic organizers and reading comprehension tools to use with your students!
Example Set of Biographies
Here is an example of the Scientist and Inventor section.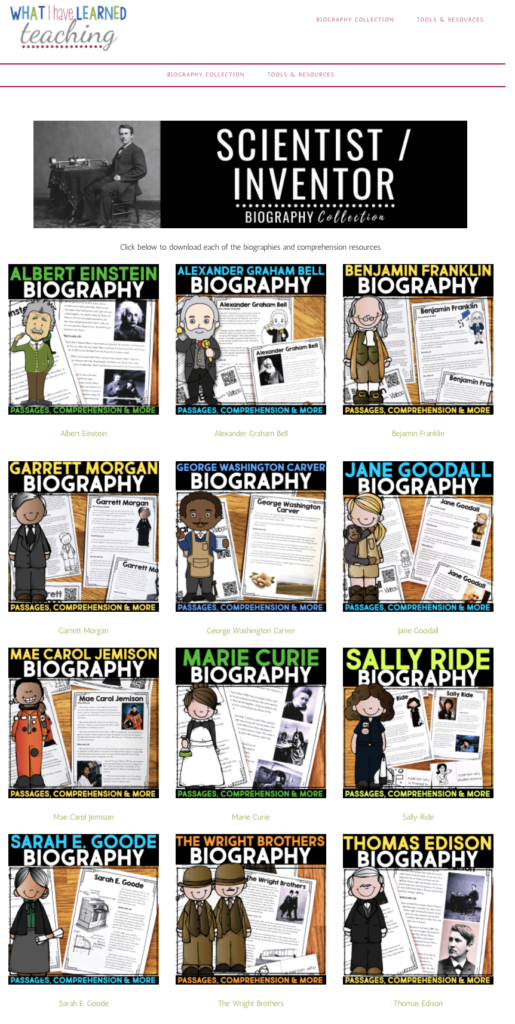 Biography Collection
vs. Purchasing Separately
Here is what you save with the collection vs. purchasing resources individually.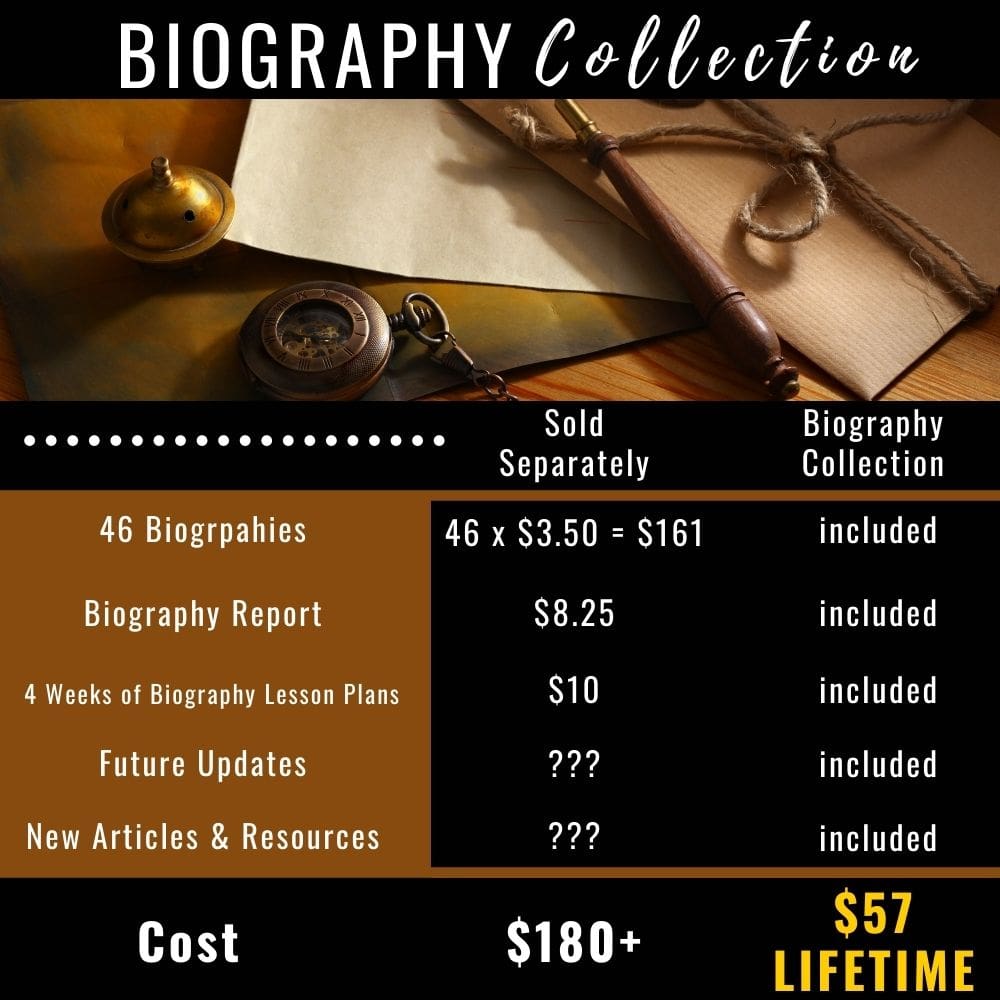 Get the Biography Collection
$57
$57 for lifetime access to all of of these resources & all future updates
47 Biographies
Digital Biographies
Biography Report
Biography Sort
4 Weeks of Lesson Plans
& More
Are you ready to have complete access to 47 Biographies, Lesson Plans & More?
Your students will love studying about these historical people, diving deep into social studies, and learning reading comprehension strategies with engaging texts.
Here's how it works.
January 1, 2019
Step 1:
Click "Sign Me Up" and follow the directions to complete your payment.
January 1, 2019
January 1, 2019
Step 2:
When the payment is complete, click the GET STARTED link on the order page. You'll also receive your login details via email.
January 1, 2019
January 1, 2019
Step 3:
Login to access the Animal Articles Collection!
January 1, 2019
Frequently Asked Questions
How will I access the collection?

When your payment goes through, you will be sent your login details. Log in to the website and you will have full access to all of the resources currently available.

Each resource is an independent PDF download. Links to digital Google Slides are included in each PDF download.
Can I share the collection with other teachers?

No.

I would love for you to share ABOUT the collection with your colleagues. Login for the course is for one teacher.
I already purchased some of your Biographies. Can I get a discount?

Since the Biography Collection is offered at such a deep discount already, I am not offering refunds or credits for past purchases.
What grade levels is this best for?

The reading passages were designed for an independent reading level for second through fourth grade. I use them with my second graders as a guided reading during direct instruction. Students used them to do their biography reports and scaffolding was provided along the way.

Teacher of older students have also shared how they can go deeper with reading comprehension skills like categorizing and compare and contrast as well as writing multi-paragraph essays that utilize those skills.

So, to answer the question – it depends on how you use the resources with your students.
Do you offer refunds?

It's my highest priority that you're 100% satisfied with your purchase. Please see our refund policy.
How long do I have access to the collection?

Forever! Well kinda.

You'll have access to the collection as long as the collection is available. There is no limit or deadline and it is lifetime access.
Do you offer life-time updates for free for those members that have purchased it?

YES! All future updates of the biographies and related resources is included.
Will you be adding more to the biography collection every year? If so, would you take suggestions?

Great question! Since the collection already includes 47 biographies, I wasn't considering adding more this year. However, I have a few ideas rolling around in my head, so in all likelihood, yes, I will be adding additional biographies to the collection.

I'm also open to suggestions. If you would like a specific person, let me know through this contact form.
Can these be shared with student's digitally ?

Yes! Each of the Biographies have links to a Google Slides version and can be used digitally.

You can share them digitally with students as along as it is through a secure website that requires a log in. Do not share them on an open website where anyone could download them.
Do these articles come with different levels so they can be used for differentiation?

Not yet! Last year we finished creating the last few biographies. Differentiating the main article is on our list of to-dos and will likely be a future update.

Each article includes a CLOZE reading passage, which is a great tool for differentiation.
Do you accept Purchase Orders?

Yes! Please contact me about submitting a purchase order.
Do you have another question I haven't answered yet?

Still have questions, concerns, or anything else you want to ask me? Contact me here.
Join us to get access to 47 Biographies
and additional resources
to enhance your reading, writing, and social studies curriculum
Change how you teach reading. Change how you teach writing. Change how you teach social studies.